Nothing says "fall" like a pumpkin. These bright orange gourds are synonymous with fall — and picking your very own from a local pumpkin patch is a requirement!
Our Guide to Pumpkin Patches around Southwest Ohio will help you pick the picture perfect pumpkin for your porch!
---
Dayton Pumpkin Patches
Brumbaugh's Fruit Farm
6420 Arcanum Hollansburg Rd, Arcanum, OH 45304, (937) 692-8084
Jump on one of Brumbaugh's hay wagons and take a ride to the pumpkin patch to pick that "perfect" pumpkin. On your way back, stop in the bakery for a delicious fall pie. Pay for all pumpkins at the main entrance when you exit the farm.
Fulton Farms
2393 OH-202, Troy, OH 45373, (937) 335-6983
Come enjoy a hayride to the pumpkin patch with the family! For the month of October Fulton Farms has all kinds of fun, food and games. we have a corn maze, farm animals, hayrides and lots of great fall food.
Kleather's Pumpkin Patch
90 West Central Avenue, Springboro, OH, (937) 748-9826
Kleather's Pumpkin Patch is a family run business and has been up and growing for over 35 years now! They sell an assortment of fall items including pumpkins, gourds, squash, straw bales, fresh apple cider, apples, snacks and many other fall goodies!
Majestic Nursery and Gardens
2100 Preble County Line Rd, West Alexandria, OH 45381, (937) 833-5100
Find that perfect pumpkin in the fresh country air at Majestic Nursery and Gardens. Choose one from the extensive display area or from the large pumpkin field. With nearly 45 different varieties grown, there are many types to select from. Most are edible and make great cakes, pies, and stews. These pumpkins have not been sprayed.
McMonigle Farms
5490 South Dixie Highway, Franklin, OH 45005, (937) 672-8248
They have the perfect place for some family fun. McMonigle Farms Pumpkin Fest offers the most affordable and unique pumpkin patch in Middletown, Ohio. They have U-pick pumpkins, Hayrides, One-acre clueless corn maze, cow train rides, Farm animals, FREE straw maze, a Large play area with corn boxes and Homemade seasonal treats
Tuken's Orchard & Farm Market
15725 Dayton Eaton Pike, West Alexandria, OH 45381, (937) 687-3848
Tuken's specializes in a wide variety of seasonal, freshly harvested fruits and vegetables. Great care is taken to ensure the highest quality and flavor, from selecting the right seeds and preparing organic mulch growing beds, to the on-going care in protecting the plants from damaging insects and diseases. Each vegetable is carefully hand picked and promptly displayed to meet the most discriminating buyer's need for ultimate freshness and taste.
Warrick Farm
8055 S Union Rd, Miamisburg, OH 45342, (937) 477-9803
Get your fall pumpkins and Mums here at Warrick Farm. Several varieties of pumpkins to choose from.  Beautiful colors of fall mums ready to fill your flower garden or add to decorations.
Windmill Farm
1454 E. State Route 73, Springboro, OH, (937) 885-3965
Enjoy the best of Windmill Farm Market's SPOOKTACULAR fall hayride. Their famous adventure hayride contains all the best parts of autumn. It includes educational information about how pumpkins survive and grow, views of our animals, and much more. The 30 -minute trip takes you up and down hills, through the mud, and back to the pumpkin patch. The hayride trail is decorated for younger children but is sure to be enjoyed by people of all ages!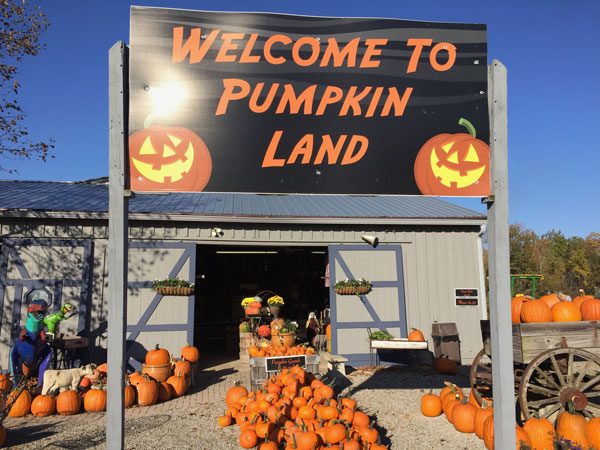 ---
Cincinnati Pumpkin Patches
Blooms & Berries Farm Market
9669 S. St. Rt. 48, Loveland, OH 45140. 513-697-9173
Pumpkins, pumpkins everywhere — Blooms & Berries takes pumpkins very seriously. As you enter the Fall Festival at Blooms & Berries, you'll be greeted by piles of picturesque pumpkins. Families can enjoy Hayrides, Pumpkin Bounce Pad, Corn Maze, Mini Corn Maze, Bee Train, Play Area, Barnyard 500 Trike Track, Farm Animals, Spookley, & more!
A&M Farms
22141 SR 251, Midland, OH 45148. 513-875-2500
This farm is located north of Fayetteville, east of Blanchester near Midland, OH — and well-worth the trip. Each fall, A&M welcomes customers to pick their own apples starting mid-September and pumpkins. Hayrides offered on the weekends, weather permitting. Check their Facebook page for more info.
Brown's Family Farm Market
11620 Hamilton Cleves Rd, Hamilton, OH 45013. 513-738-0404
Brown's fall family fun happens weekends through October, and you can take their hayrides to the pumpkin patch every Saturday and Sunday! You can follow them on Facebook for fall fun updates.

Burger Farm and Garden Center
7849 Main St., Newtown, OH 45244. 513-561-8634
Burger Farm & Garden Center hosts one of the largest fall events in Cincinnati, weekends only through October 31st with pumpkins, corn stalks, mums, gourds, apple cider, animated pumpkin land characters, games, food, music, farm animals, crafters and more.
Burwinkel Farms
4359 Hamilton Cleves Road, Ross, OH 45013. 513-738-1145
With over 20+ varieties of locally grown apples, as well as fall décor galore, Burwinkel Farms is the perfect place to take your family for corn stalks, gourds and pumpkins of all sorts, Indian corn, apple cider and mums. During the whole month of October, the farm offers a variety of activities for all ages including a corn maze, scavenger hunt, straw tunnel, corn pool and weekend hayrides to a pick a pumpkin from the patch.
Country Pumpkins
1835 Sherman Mt. Zion Rd., Dry Ridge, KY 41035. 859-905-9656
The pumpkin patch at Country Pumpkins is one of the most authentic pumpkin patch experiences in Cincinnati. The staff is ready to cut the pumpkin off the vine for you if need be and the kids will love winding their way through the vines to find the perfect one. Their pumpkin patch and fall festival starts mid- September, and tickets must be purchased online.
Neltner's Farm
6922 Four Mile Rd, Camp Springs, KY 41059. 859-496-7535
Neltner's Fall Festival is a local favorite! The fall fun starts Sept. 25 and you can enjoy a horse-drawn wagon rides, model train display, corn maze, pick-your-own pumpkin patch, petting zoo, pony rides, homemade food and ice cream, farm shop, seasonal apples, barrel train and so much more. 
Niederman Family Farm
5110 Lesourdsville West Chester Rd., Liberty Township, OH 45011. 513-779-3228
Take a walk over to the pumpkin paradise at Neiderman's where you can pick out your favorite pumpkin. Hundreds to choose from, big or small, flat or tall, or even green! We have them all. The pumpkins are priced 50¢/lb. Pick out your favorite!
Peifer Orchards
4590 US 68 N., Yellow Springs, OH. 937-767-2208
This Yellow Springs gem is known for its apples — but the pumpkin patch at Peifer Orchards deserves recognition on its own! Located just a short walk from the market barn, you'll find a beautiful field speckled with all shades of orange. U-Pick Pumpkins will begin mid-September, so be sure to check HERE for updates. 
Shaw Farms
1737 OH-131, Milford, OH 45150. 513-575-2022
Around town, Shaw's is know for their pumpkins, which come in a wide variety of shapes, colors, and sizes. The massive field is full of wooden fall-themed climbers for kids to explore while waiting on hayrides, a trip through the cornmaze, or their turn petting the farm animals.
Young's Jersey Dairy
6880 Springfield-Xenia Rd.,Yellow Springs, OH 45387. 937-325-0629
We have acres of pumpkin fun to enjoy as you find your perfect pumpkin. Young's has grown and sold pumpkins for decades – and we're looking forward to a lot of orange in our field this fall! There are two ways to find just the right pumpkin for your family. The most exciting way is to "pick your own" pumpkin directly from our field.

---
As with any U-Pick farm, we recommend calling before you go to ensure hours and selection. Most farms offer limited activities during the week, and expanded hours and fun on the weekends.