Is there anything better than taking your kids to a playground on a beautiful day?
We don't think so. And here in Cincinnati, there's no shortage of fantastic, straight-from-a-fairy-tale, playgrounds. We'll see your slide-and-swing set, and raise you ropes courses, giant see saws and a flying pig, thankyouverymuch! We challenge you to hit all these awesome playgrounds, spraygrounds and playscapes this spring!

Here are 12 Southwest Ohio Playgrounds Worth the Drive:
4188 Irwin Simpson Road, Mason
Located in Mason, Kingswood Park sits on 90+ acres of green space. The Deerfield Township Parks and Recreation has focused their time on the township's signature park with enhancements like a pollinator garden, community garden, swings, walking trail, playground and teen/adult fitness obstacle course.
3600 Observatory Ave, Cincinnati, OH 45208
One of Cincinnati's best-kept secrets, this East side gem features separate playgrounds for little (ages 2-5) and big (ages 5-12) kids, ensuring fun for the whole family! Picnic tables and walking trails make Ault Park Playground the perfect place to spend a summer afternoon.
Forest Field Park
2100 E. Centerville Station Rd., Dayton
Forest Field Park is an arboretum as well as a community park. The Park District has planted 14 varieties of evergreens and 41 species of deciduous trees around the park. The play equipment in the park was updated in 2018 and includes a natural play area adjacent to the traditional playground. (featured photo)
Cincinnati Nature Center PlayScape
4949 Tealtown Road, Milford, OH 45150
Imagine a large labyrinth of trails, giant logs, kid-sized creeks, rocks, trees and mud. Everything is connected and contained… and your kids can touch, feel and manipulate to their hearts' content. That's the Marge & Charles Schott Cincinnati Nature Center PlayScape. Also, two words: Mud Zone. Your kids will LOVE this East Side gem! (Note: admission to the PlayScape is free for members and included with daily admission for non-members.)
Related Article: Best Indoor Playgrounds
10397 Springfield Pike, Woodlawn, OH
This Hamilton County Great Park is an unexpected breath of fresh air and beauty beside a very industrial area — plus it has one of the most innovative, imaginative and interactive parks we've ever seen. Highfield Discovery Garden is 12 acres of pure magic that will bring out the kid in everyone. There are seven different, themed gardens to explore within Highfield Discovery Garden, including a 25-foot-tall tree house, kid-sized cottage with a tea set and dress-up clothes, koi pond and Garden Learning Center with water to pump, dirt to dig in and daily classes. The big-and-small scale of everything will make you feel a bit like Alice in Wonderland – and you won't want to leave.
Millstone Creek Park
745 N Spring Rd, Westerville, OH
Located just outside of Columbus, this playground is worth the drive. A mix of natural, traditional and futuristic elements make this playground truly one-of-a-kind. One side contains a colorful playground built on a rubberized surface. There are interactive, electronic games, musical instruments, and tons of spinning, slide-able and climbable structures. The other side is inspired by nature, with plants, slides, a stream, water pump and sandy area all mixed together.
Land of Make Believe
4740 Playfield Lane, Cincinnati, Ohio 45226
Located within Lunken Playfield, Land of Make Believe is a gigantic, nicely shaded, mega-playground that will have your kids content for hours. In addition to its cool location by Lunken Airport (the airplanes… they're so close!), this playground is pure fun for kids of all ages. The main structure is huge — boasting five slides (six, if you count the double slide), and full of little nooks and fun features to keep kids completely engaged for quite a while.

Nature Play at BCM
1600 Montague Road in Devou Park, Covington, KY 41011
Nature Play at BCM is a unique playground, built into the natural elements of a hillside adjacent to the museum. On a nice day, it's a must before or after your time in the museum. It allows for imaginations to literally run wild and keep in mind that there are many opportunities to get a little dirty. NaturePlay @BCM is also handicapped-accessible and great for all ages – and both entry and parking at this N. KY attraction are FREE!
Related Article: 10 Epic Playscapes
Parky's Farm
10073 Daly Road, Cincinnati, OH 45231
Parky's Farm has it all: indoor and outdoor playgrounds, picnic shelters, a gorgeous garden, orchard and animals. Horse-loving littles will love the pony rides at Parky's Farm, and older equestrian enthusiasts can go to horse camp or watch shows at the Winton Woods Riding Center (located on the Parky's Farm grounds). Be sure to check out the schedule of classes at Parky's Farm; each week, there's a themed class perfect for the preschool crowd.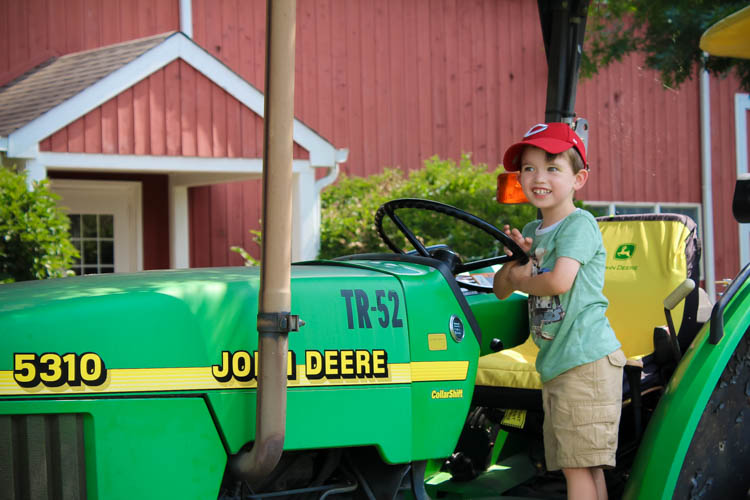 5919 Ridge Ave., Cincinnati, OH
Pleasant Ridge's playground was built in 2000 by more than 3,000 volunteers, then renovated in 2013 to be even bigger and better. (In fact, this Cincinnati Recreation Commission playground was most recently expanded to include a water-park worthy spray ground.) From swings (infant, big kid and tire) to bridges, fairy tale castles to chomping crocodile slides, this playground is tons of fun. Cincy kids will especially enjoy banging on the larger-than-life xylophones.
Smale Riverfront Park
West Mehring Way, Cincinnati, OH
Smale Riverfront Park has several gardens, parks and trails that are great for adults and families. For kids, there are four main attractions: the Main Street Fountain, Heekin/PNC Adventure Playground, P&G go Vibrantscape and, of course, Carol Ann's Carousel. The Main Street Fountain and P&G go Vibrantscape are at the top of our list for summer fun, and kids will love running through fountains and playing with the water auger and pumps. The Adventure Playground features a rock climbing canyon, log climbers, twin racing slides, rope bridge and a mist feature; it's the perfect place for kids to dry off after the spray ground(s)! And, Carol Ann's Carousel is one of our favorite spots in the city: no visit to the riverfront is complete without a two-minute whirl around this attraction.
Summit Park
4335 Glendale-Milford Road, Blue Ash, OH
Summit Park in Blue Ash is arguably the most innovative playground in the city. This large park is constantly adding more and more exciting features, most recently opening an epic playscape with both land and water features. The creative playground and paved walking trails provide fun for everyone – and be sure to bring your bikes for the various trails!
4764 West Fork Rd., Cincinnati, OH 45247
West Fork is unlike any other playground in the city. It more than meets the accessibility guidelines put in place by playground experts and it is truly a place space for everyone. Each zone has been purposefully planned and the playground was specifically built to keep the attention of children for longer than 30 minutes and to meet the needs of all children. It has so many unique features, including a large infant/toddler play area with two imaginative play houses, a colorful maze that also has texture to its walls for those children with sensory issues, a 14-foot mega tower with plenty of chances to climb and slide, and perhaps the best feature – a zip line!
3653-3697 Millikin Rd, Hamilton, OH 45011
Heroes Park, located at the corner of Millikin and Morris Road, has epic features for kids of all ages! Serviced by Fairfield Township, the park has a little bit of everything- a playground with zip line, spinning nets, toddler space, multi-level climber, musical instruments, covered picnic areas, spacious parking, paved walking trail, veterans memorial and clean restrooms.
Take advantage of the warm temps by planning a family playdate at one of these local playgrounds. And parents: bonus points for some swing jumps and tire swing spinning!